TAKE A LOOK AT WHAT PEOPLE ARE SAYING ABOUT JEAN GORDON STYLE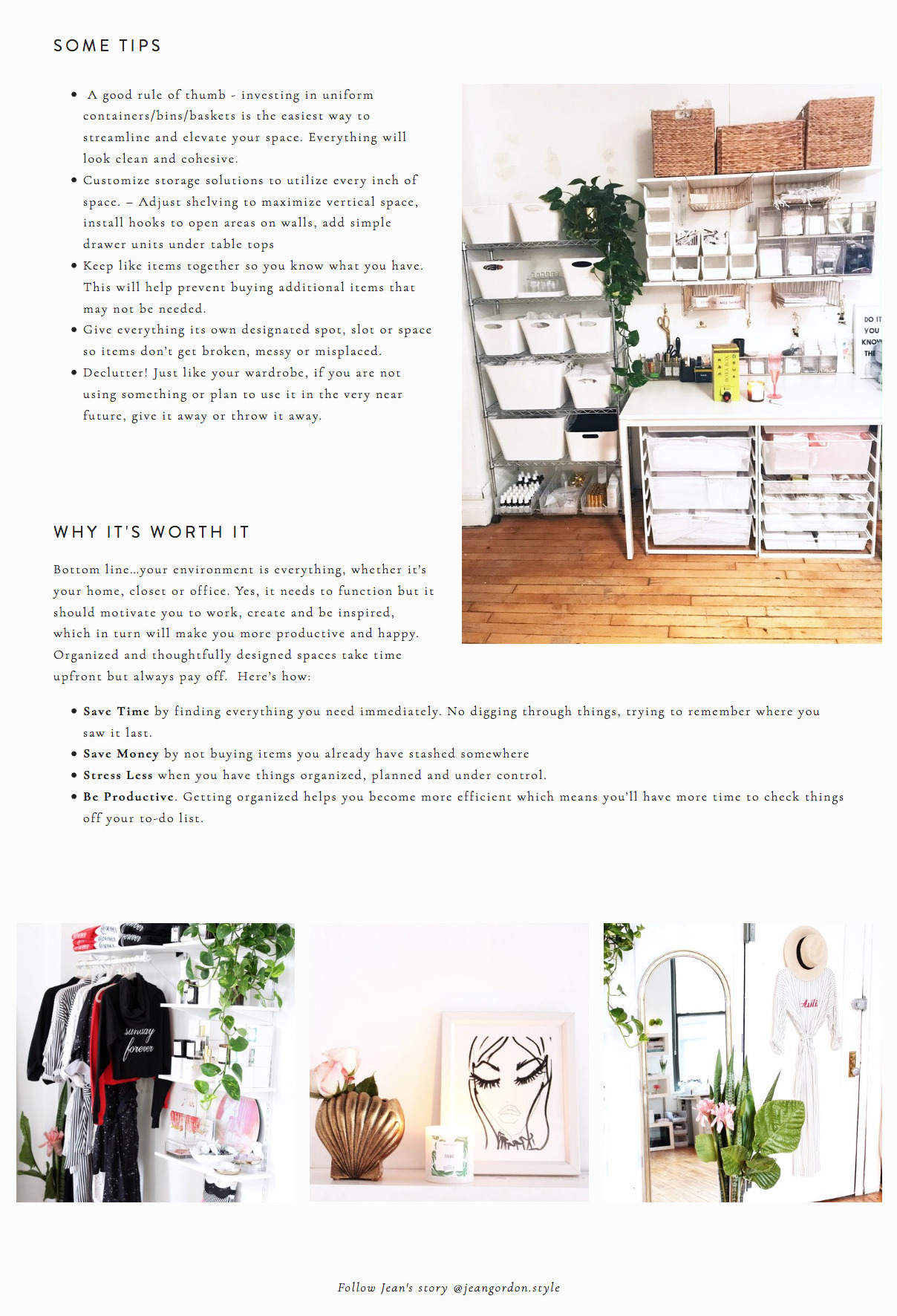 HERE'S WHAT SOME RECENT CLIENTS HAD TO SAY
MELISSA - CREATIVE BEAUTY & LIFESTYLE CONSULTANT, NYC NY
"Jean Gordon is my Wardrobe Fairy Godmother. Always a fashion girl at heart with a major shopping addiction, I have accumulated a ton of incredible pieces over the years. The dilemma was that I would always forget what I actually had deep in the depths of my over- packed closet. Getting dressed in the morning became a nightmare.
Like Cinderella, in came Jean Gordon with her closet magic. She brought control to chaos; all of a sudden older pieces seemed fresh again and I began to look at new ways to wear them. Jean has left me with some lasting advice including "think style, not trends" and "yes! you have something to wear". And let's not forget the "one in one out" rule- something everyone living in a NYC apartment should stick to. Thank you for making all of my closet dreams come true."
"LIKE CINDERELLA, IN CAME JEAN GORDON WITH HER CLOSET MAGIC. SHE BROUGHT CONTROL TO CHAOS" - MELISSA
MELLY – JEWELRY SALES DIRECTOR, WILTON CT
"I had a blast and learned so much editing my closet with the amazing Jean Gordon. I'm in love with my closet. Pieces I've had forever feel new again! Less is definitely more and my closet has never looked better. It's like my own personal boutique!"
ASHLI - BRAND MARKETING CONSULTANT, NYC NY
"I've used her brilliant service twice and it's changed my life. She also helps you view your current wardrobe in a whole new way, magical..."
ANNA - BUSINESS OWNER, NEW CITY NY
"I thoroughly enjoyed my styling session with Jean. It was fun and very productive! I learned what type of clothes work best for my body type. She went through my entire wardrobe and helped me identify styles and silhouettes that complement my figure, while editing out anything that was unflattering. She explained what works, what doesn't and most importantly why. I am now shopping smarter, choosing clothes that fit my body type and make me look great. I feel more confident about my style and appearance…and my closet looks incredible! I would recommend her services without hesitation."
ANGELA – DESIGN OPERATIONS VICE-PRESIDENT, HO-HO-KUS NJ
"I hate to shop! So much so that I usually scramble to buy an outfit for an event, interview or wedding the night before. After working with Jean on my Closet Edit and Personal Shopping session, I was confidently prepared for an impromptu dinner… at a billionaire's house! It was amazing to not have that what-to-wear stress. Jean helped me identify beautiful clothes that work and fit me to a 'stylish T'. Thank you Jean, you rock!"
DEBBIE - INTERIOR DESIGNER, WESTPORT CT
"Jean is simply the BEST stylist! Looking great has never been easier...or more fun ... than with Jean. She has genuine passion for what she does, an elegant and refined personal style, and a trained, expert eye for what works best for you and your lifestyle. She has a fresh approach that quickly cuts through the chaos to identify those key items that truly reflect who you are, what your authentic style is, and the personal image you want to project.
After working with Jean, you will be amazed at how easy it is to have a wardrobe customized for you that looks, fits and feels great. You will have the know-how and confidence to put it together everyday to look and feel your best, no matter where you go. Jean is amazing; I can't recommend her highly enough!"
MELISSA - ADVERTISING EXECUTIVE, WILTON CT
"Jean took control of my closet and organized it in a more efficient way than I ever would have thought of. Things that I wear all the time are easily within reach, and she helped me pair things together that I hadn't thought of before. I feel like I have a whole new wardrobe and my mornings are so much easier!"